(BPT) – Chances are you're ready to get out to see friends and enjoy the sunshine this summer. However, it's probably been awhile since you've had plans where you're outside all day. While sunshine and socialization are good for you, you're probably not eating full meals at every single outing, so having a healthy and refreshing snack on hand is important.
According to MedlinePlus, snacking can have a bad image, but eating healthy snacks can decrease your hunger and keep you from overeating during mealtimes. Here are some common summer activities and ideas for healthy snacks to keep you fueled:
1. Picnics
Picnics are a great way to socialize and get outside. At the same time, some common picnic foods like cold-cut lunch meat and other salty foods can dehydrate you, especially if you're out in the sun for a long time.
While there is nothing wrong with salty foods, you may want to consider adding some color to your plate by adding fruits like watermelon, apples, strawberries and cantaloupe.
Some fruits can be difficult to bring because of their size, but Rockit Apples™ can fit perfectly in any picnic basket. They may be small, but Rockit Apples are packed with flavor and can pair well with numerous picnic food favorites
2. Bike rides
Photo courtesy Truong Nguyen

Biking is a cherished summer pastime for many. Not only can it boost your mood and burn calories, it's also a great way to get around. If you're a dedicated cyclist, chances are you're not just going for a casual ride around the neighborhood. According to cycling health website QuickSoul, novice cyclists can ride up to 20 miles per day, while more seasoned cyclists can ride up to 60 miles per day.
If you're riding that far, chances are you're going to get hungry and eventually need a snack. Rockit Apples can be a sweet and refreshing treat to keep you moving, no matter how far you ride. With their convenient size and long shelf life, Rockit Apples are great for any cycling adventure.
3. Boating
There's nothing quite like hitting the open water. A day on the boat with family and friends is a great way to relax and soak up some sun. However, similar to picnicking, the foods you bring on the boat aren't always refreshing.
To keep yourself and everyone else healthy and hydrated, why not bring some Rockit Apples for everyone to share?
Rockit Apples not only taste good, they're good for you. They're packed with nutrients like vitamin C, potassium and are a great source of fiber.
4. Barbecues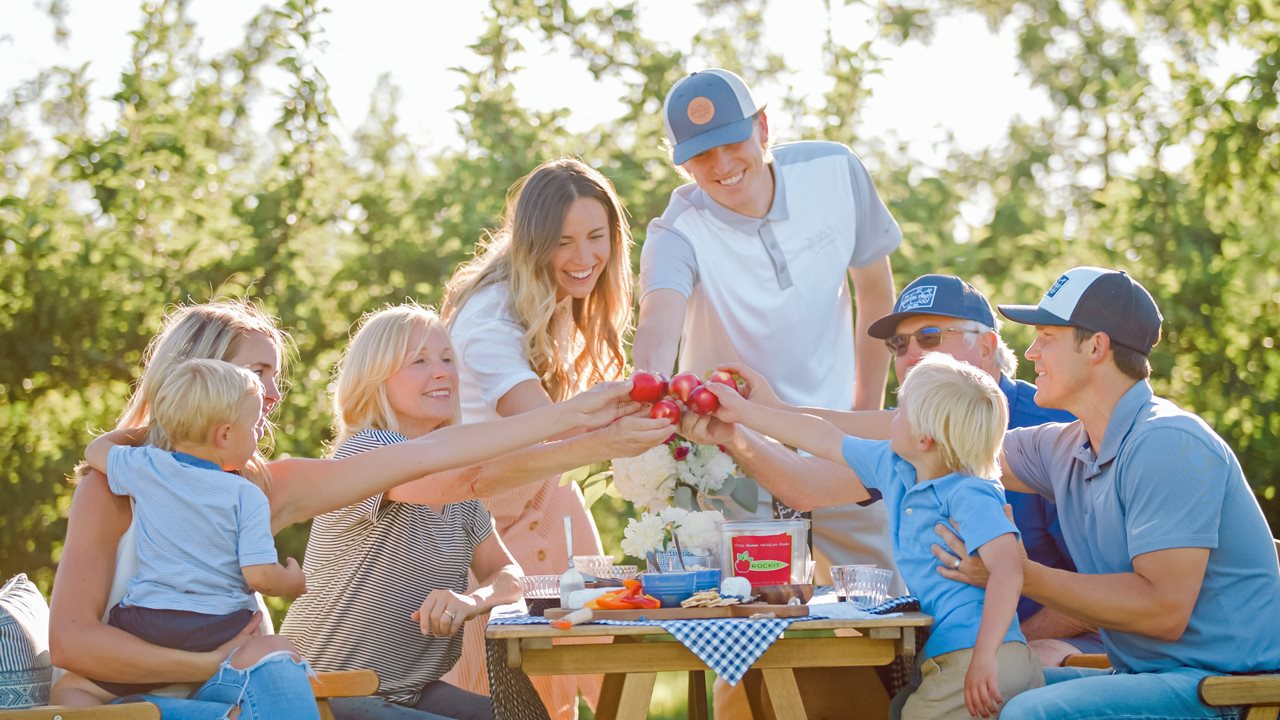 Backyard BBQs combine all of the sweet and savory flavors of summer, like ribs, burgers, brats, coleslaw, ice cream and lemonade.
However, foods with too much salt or too much sugar can leave you feeling sleepy and lethargic if you indulge, so it's good to balance them out with healthy snacks too.
If you plan on having a BBQ this summer, Rockit Apples can make a delicious addition to any get-together. Since they come in 3 lb. shuttles, they're a fantastic party favor to share. Plus, Rockit Apples are great for putting in different recipes due to their size.
5. Kid sporting events
There's nothing better than watching your kids play baseball or soccer. However, once you get into tournament season, you may be sitting at the field for longer than you anticipate, so it's crucial to have the right snacks on hand.
Rockit Apples are one of the best snacks you can have, whether they're for your star player or the other parents. Plus, Rockit Apple containers are 100% recyclable so you don't have to worry about creating more waste when you buy them.
Enjoy your summer activities with the right treats
If you're ready to get out, enjoy the sun and rock it this summer, you need a delicious, nutritious and portable snack. Check for Rockit Apples in the produce aisle at your local grocery store today.