(BPT) – If you own a swimming pool, you probably already know that you need to close your pool each year in preparation for the colder winter months, especially if you live in an area that sees freezing temperatures. But did you know you could be leaving your pool vulnerable to costly freeze damage if you don't properly winterize your pool and equipment? Fortunately, there are steps you can follow that will help ensure your pool is correctly and safely closed for the winter — making your pool opening next spring much easier.
Follow these tips to help the entire process go more smoothly:
1. Don't close too early
Instead of using a firm date on the calendar to determine when to start closing your pool, watch the outside temperatures. Closing your pool when it's still too warm outside could lead to excess algae growth under the pool cover — which you'll have to deal with come springtime. Once the ambient temps are consistently below 65 degrees Fahrenheit, you can go ahead and begin the closing process.
2. Prepare the pool water for closing
If you're doing all the prep work yourself, consider getting a convenient pool closing kit, which will contain all of the essential winterizing chemicals you'll need for closing your pool correctly. Even easier, you can order a winter kit online at InTheSwim.com. Their winter chemical kits include stain and scale prevention, algaecide and chlorine-free shock, all of which you'll need to close the pool the right way. Some kits also include a phosphate remover and natural enzymes.
Pool closing kits from In the Swim are packaged according to pool size. For best results, these kits can be upgraded to include an AquaPill WinterPill, an all-in-one solution made from an all-natural formula that prevents stains, inhibits algae growth and maintains water clarity over the winter months.
Here are the steps for preparing your pool's water:
Add phosphate remover a week before closing the pool.
Clean the pool thoroughly with a skimmer net, brush and vacuum.
Add winterizing chemicals, such as algaecide and stain and scale prevention.
Test and balance the water.
Shock the pool to ensure proper chlorine levels.
Run the pump for one full cycle.
Clean the filter.
3. Prep pool plumbing and equipment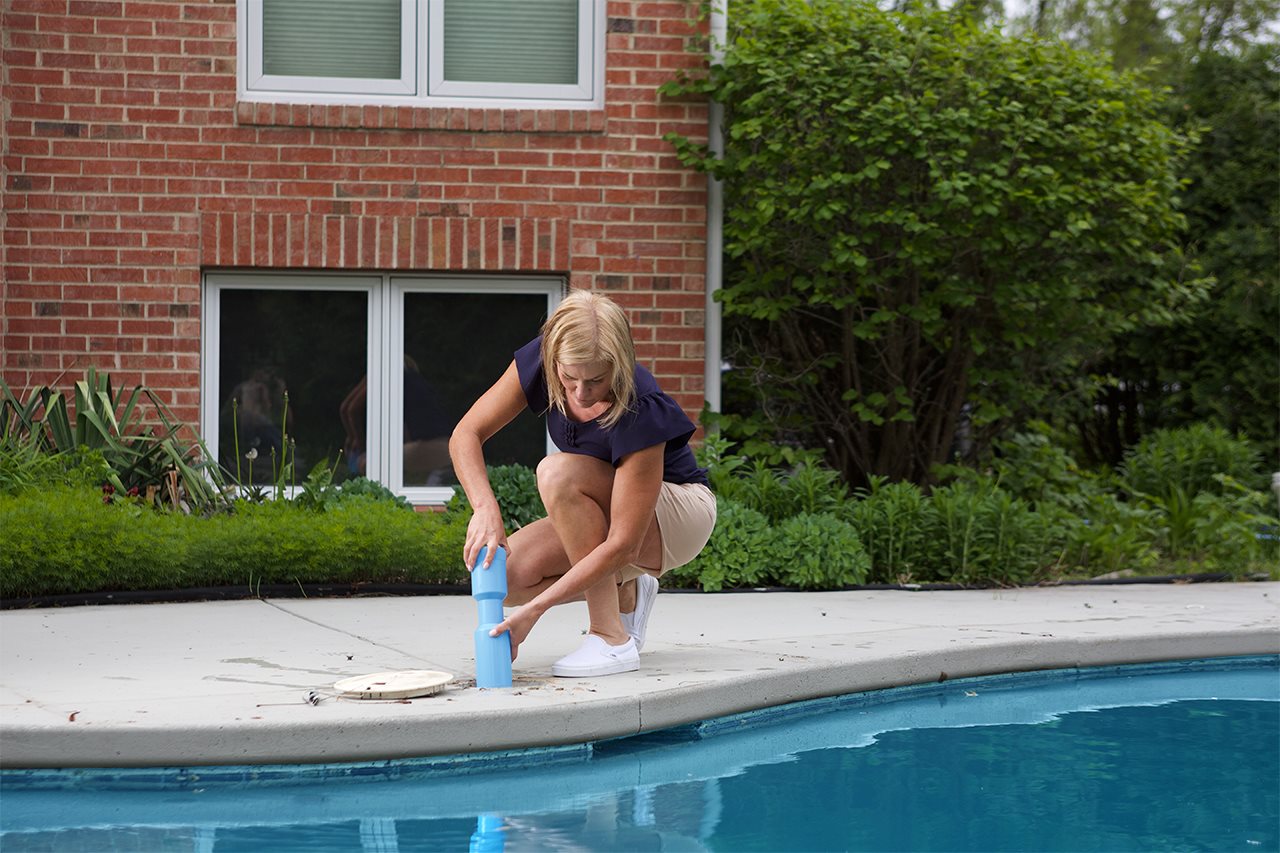 Once your water is ready, you can start prepping the pool's plumbing for closing:
Turn off power to all pool equipment.
Lower water levels 4–6 inches below the skimmer, unless directed otherwise by your pool manufacturer.
Remove drain plugs from equipment.
Blow out plumbing or drain water from pool lines.
Add winterizing plugs to the returns.
Use non-toxic pool antifreeze in the lines for extra protection.
Protect the skimmer against freeze expansion with a Gizzmo or skimmer guard.
If you're unclear about how to proceed with any of the above steps, visit the In The Swim blog for more detailed descriptions of each process.
4. Finish closing your pool
Before you're ready to cover the pool for winter, you'll want to remove and store non-permanent fixtures and accessories from the pool, including ladders, handrails or anything else that will come in contact with the pool cover. Don't forget to check for items such as toys, floats and pool cleaners left in the pool, and store them for winter.
Next, clean off the entire pool deck, and prep cover accessories you'll be using, such as air pillows, cover cables, water bags or safety cover hardware.
5. Install the winter cover or safety cover on the pool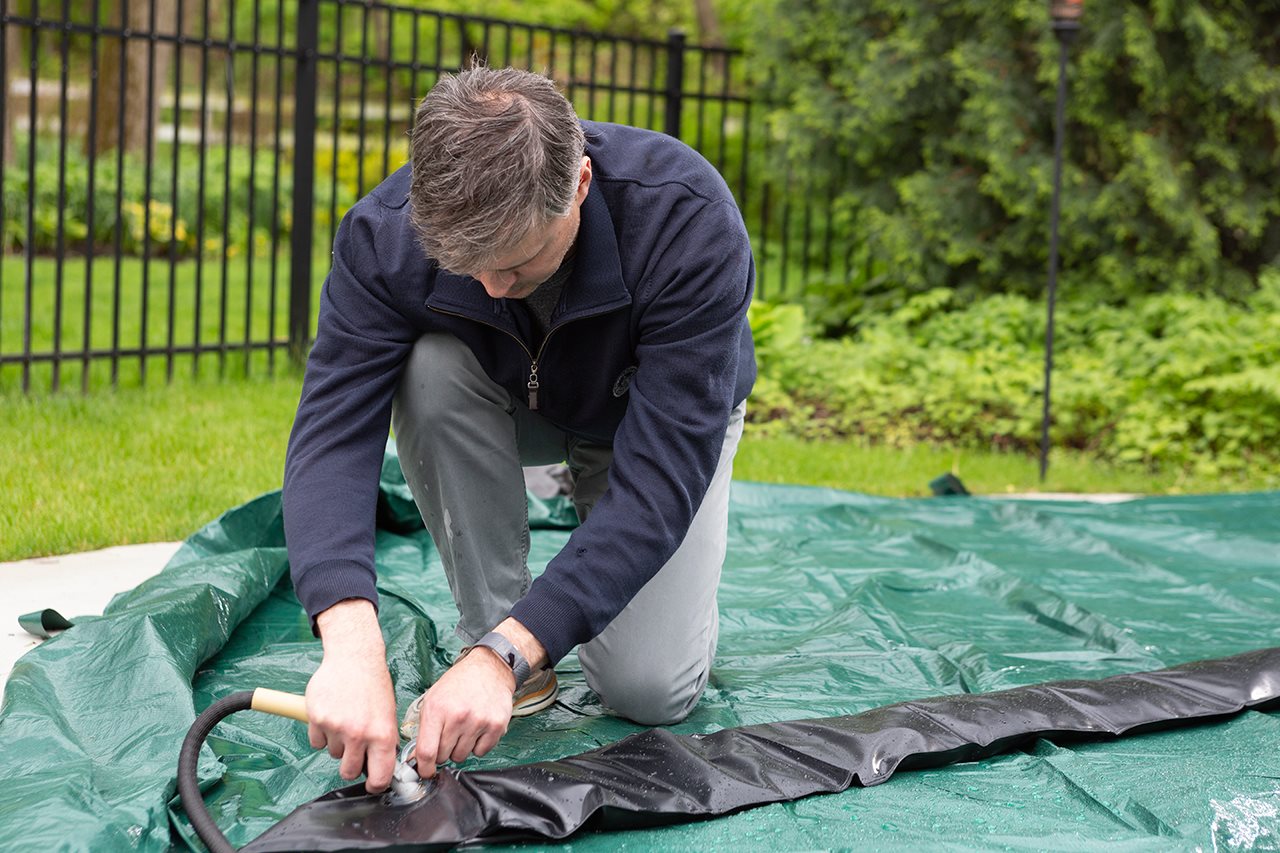 Making sure your pool is safely and properly covered for the winter serves a few different purposes. The most important reason is the cover will prevent debris, such as leaves, from ending up in your pool, which can make the pool tougher to clean out in the spring. Covers also block sunlight, which can help inhibit algae growth. If using a safety cover, you'll have added peace of mind against pool entry accidents.
Now that you know these steps, you'll know how to keep your pool safe and snug over the winter months — while waiting for next year's fun.
You can find useful products to help you maintain and close your pool at InTheSwim.com.