(BPT) – The new year is a time to reflect and think about how you can live better both for yourself and the world around you. One popular resolution is to eat less sugar, but chocolate lovers struggle to give up their favorite treat. The good news is, now you don't have to.
If you're resolving to eat less sugar this year, there are chocolate options that will satisfy your cocoa cravings and keep you on track:
Dark chocolate
Dark chocolate is lower in sugar and full of antioxidants, so stock up on this feel-good treat to help you stick to your New Year's resolution. A square or two of dark chocolate with your mid-morning cup of coffee or after lunch can satisfy that sweet craving! Check out the more than 40 dark chocolate options from Chocolove that are made with high cocoa content, which means lower sugar content.
Not sure where to start? Try the Strong Dark Chocolate Bar, featuring strong, Belgian dark chocolate with 70% cocoa, and only 30% sugar content. The intense and well-rounded flavors have a pleasant and velvety finish that is indulgent and satisfying. A 77% Extra Strong also is available with extra cocoa butter that adds balance and softness.
Want to go to the extreme with your dark chocolate? Try the Extreme Dark Chocolate Bar with 88% cocoa. High cocoa content of 88% means lower sugar and high polyphenol content.
How does chocolate low in sugar still taste great?
By using only top-quality cocoa beans and taking great care through the roasting and grinding process, Chocolove avoids the need to add excess sugar to dilute bitterness that can come from poor quality beans. This is why even the highest cocoa content bars taste smooth and delicious.
What's more, you can feel good about enjoying these bars because they are made with traceable cocoa beans and are Rainforest Alliance Certified, meaning the chocolate is sourced using methods that support social, economic and environmental sustainability. They are also Non GMO Project Verified.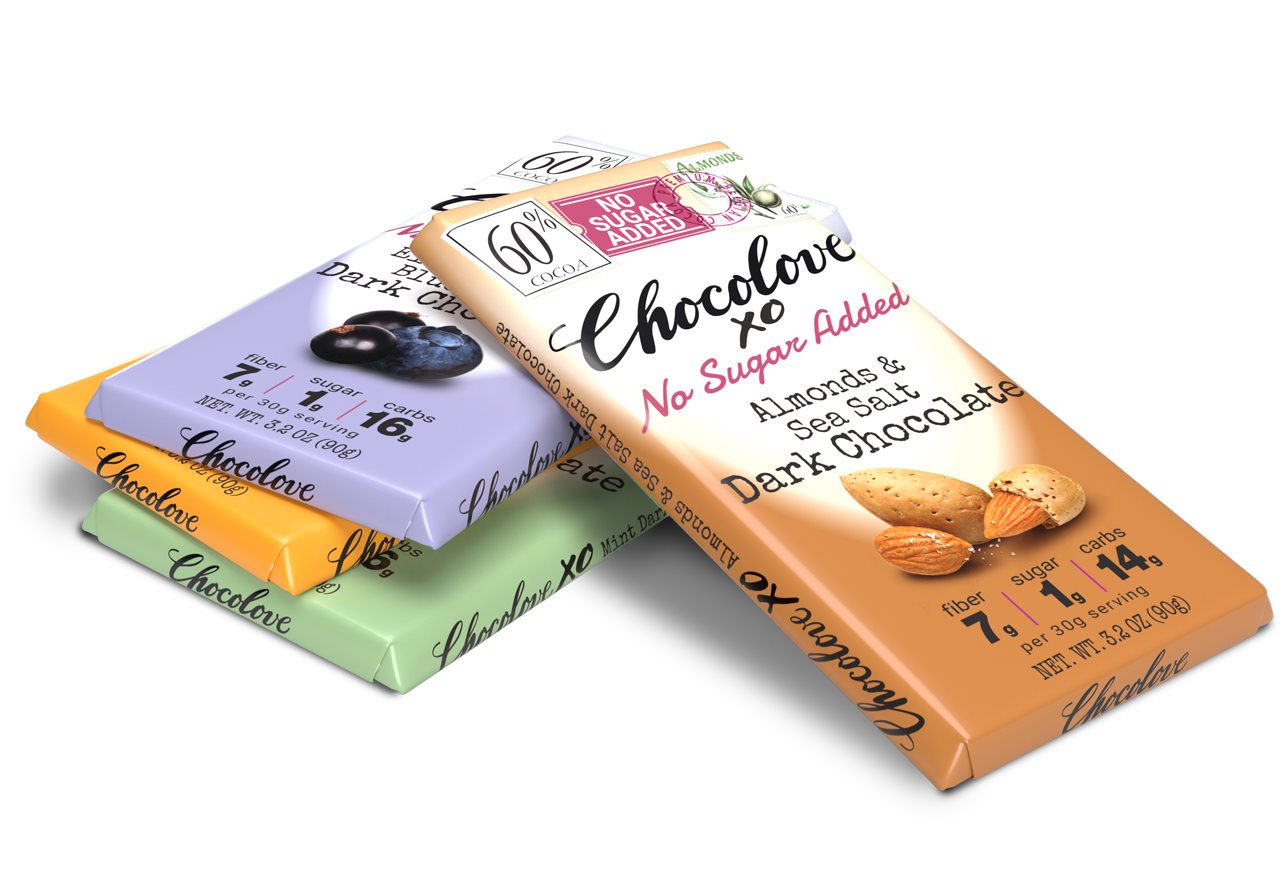 Chocolove XO is no-sugar-added chocolate sweetened naturally with inulin from chicory root and isomalt from beets. There are no artificial sweeteners, which helps deliver a smooth, delicious taste. This higher-fiber, keto-friendly option is a great choice for those following a low-sugar diet and for those who want to enjoy high-quality chocolate with fewer calories and less sugar per serving.
If you crave the combo of chocolate and fruit, try the XO Elderberries & Blueberries in 60% Dark Chocolate Bar. It's a perfect pairing of dried elderberries and freeze-dried blueberries in creamy dark chocolate that offers a sophisticated taste with both floral and fruit notes.
Nuts contain healthy omega-6s, so if you want a touch of healthy crunch, try the XO Almonds & Sea Salt in 60% Dark Chocolate Bar. The dry-roasted, crunchy almonds combine perfectly with sea salt crystals.
If you love mint and how it mingles perfectly with the flavor of dark chocolate, try the XO Mint in 60% Dark Chocolate Bar. The creamy dark chocolate and refreshing peppermint flavors swirl on your palate, ending in a cool mint finish.
Chocolove is sold at major retailers nationwide — including Whole Foods Market, Safeway, Kroger, Walmart and Sprouts — and is available at Chocolove.com and a variety of independent natural retailers. This is chocolate that tastes good and that you can feel good about eating.