(BPT) – It's no secret that this time of year looks different than in years past. For many families, the differences lie heavily in this year's "back to school" season. Whether kids are learning virtually, attending classes in person or a mix of both, it's poised to be a challenging time for both kids and parents. So, as we begin to sort out new schedules and continue to adjust to our new normal, why not make mealtime one less thing to worry about?
Daiya, the pioneer of delicious, plant-based foods, offers easy-to-prepare, kid-friendly recipes perfect for when you need to throw together a quick snack or meal that the whole family will love. Plus, all of their offerings are allergen friendly and completely plant-based, which food experts suggest more and more consumers are opting for. In fact, a new research study found a shift in overall dietary habits, with 20 percent of respondents having seriously considered veganism and 6 percent having tried it, and found that plant-based dishes recently experienced a huge increase in popularity.
Here are a handful of recipes from Daiya and its partners to help make plant-based eating easy on parents this time of year:
These Vegan Berry Cheesecake Brunch Bagels from The Colorful Kitchen are such a treat. Using only six ingredients, they take just 10 minutes to prepare but feel so fun and fancy. Plus, they're easy for older kids to make themselves. The secret ingredient is Daiya Strawberry Cream Cheese Style Spread, which "tastes just like berry cheesecake filling." Topped with berries, a little chocolate drizzle and powdered sugar, the end result is dessert-like while still being relatively low in sugar. Daiya Cream Cheese Style Spreads come in three other flavors: Plain, Garden Vegetable and Chive & Onion, so you can easily turn this into a savory treat using one of these varieties topped with avocado, JUST Egg, tomato, hummus, etc.
Air-Fried, Dairy-Free Mozzarella Sticks
Daiya makes it easy to create a dairy-free version of this classic, crowd-pleasing appetizer. First, you make a simple batter using plant-based milk of your choosing, flour (either regular or gluten-free) and seasonings. Then, create a breading station: line up the bowl of plant-based milk batter, the bowl of flour, and the bowl of breadcrumbs. Now comes the fun part — submerge Daiya Cheeze Sticks in the batter, then the flour and end with the breadcrumbs (have your kids help you with this step, they'll love getting their hands dirty!). Once the coated Cheeze Sticks have settled in the freezer for 30 minutes they're ready to be baked or air fried, and then enjoyed.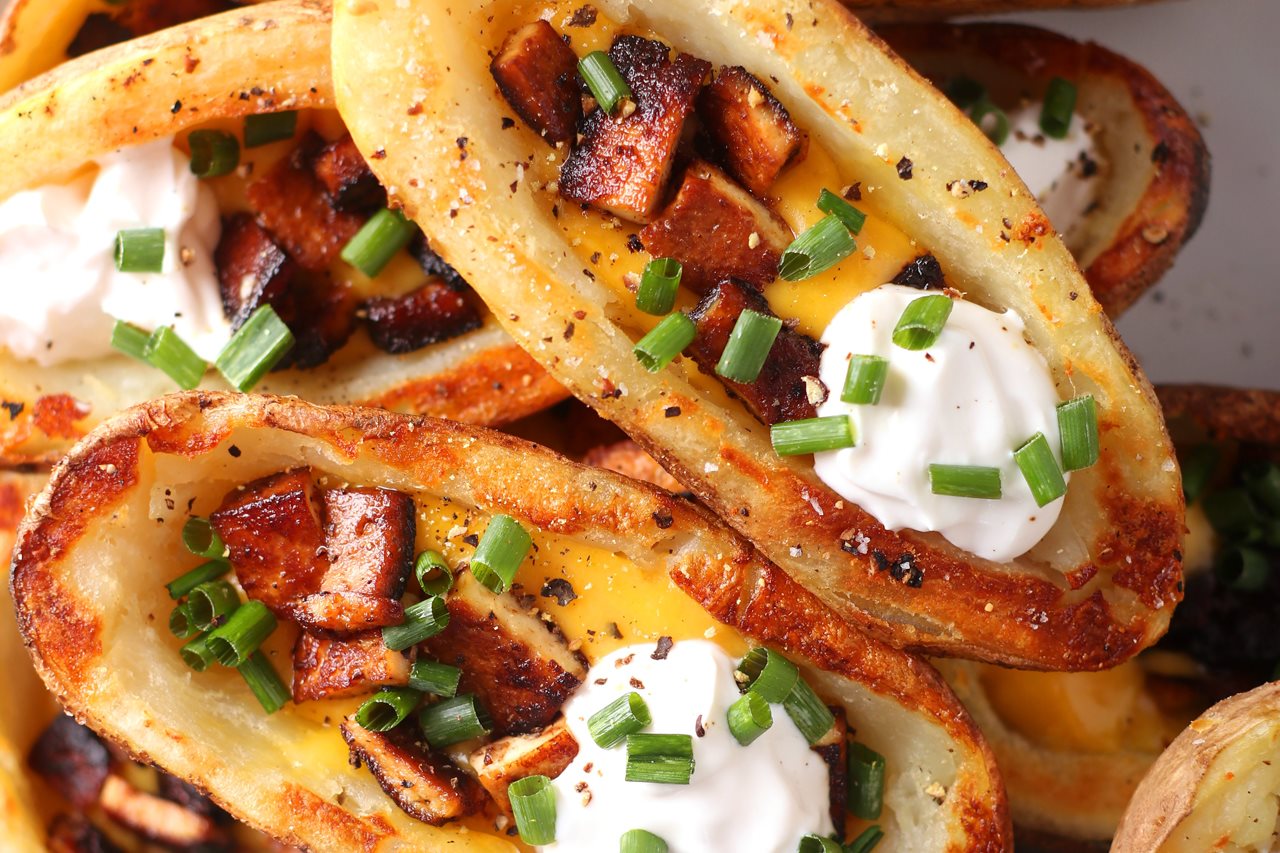 What's better than cheesy cheddar and bacon potato skins? Nothing, unless you count this vegan version from My Darling Vegan. With this perfect appetizer or side dish, kids will love building their own with hearty and healthy toppings, such as vegan bacon or tofu, dairy-free sour cream, veggies and Daiya Cutting Board Collection Shreds. Recently reformulated, the Cutting Board Shreds taste even more like dairy cheese than ever before, with similar melt and stretch. My Darling Vegan uses the Cheddar Style in this recipe, but they also come in Mozzarella, Pepperjack and a new 50/50 Cheddar & Mozza Blend.
Take your grilled cheese game to the next level with these Vegan Grilled Cheeses from My Darling Vegan. Each recipe requires just 3 – 4 ingredients and can be done in a few minutes. These grilled cheeses are rich, creamy, buttery, filled with flavor, and made with a variety of delicious and melty plant-based cheeses. My Darling Vegan uses a variety of Daiya Slices in this recipe; they come in six different flavors: American, Smoked Gouda, Mozzarella, Cheddar, Swiss and Provolone. All are great for someone who is new to eating plant-based to show how delish and melty vegan cheese can be.
On the top of every kid's list of favorite foods is pizza, but the whole family will love this 100% plant-based pizza from Liv B, complete with a savory tomato sauce, and topped with dairy-free cheese, vegan pepperoni and red onions. The best part? The crust is stuffed with Daiya Cutting Board Shreds! Liv makes her own homemade crust and sauce, but in a pinch store-bought dough and marinara sauce will suffice. Daiya also offers ready-to-make Gluten-Free and Vegetable Crust pizzas, available in the freezer aisle, for when you're in need of a quick and easy meal.
To check out more recipes from Daiya, visit https://daiyafoods.com/recipes/.