(BPT) – Timeless, durable and available in countless shapes, sizes and colors, tile is a popular material for home improvement projects. While selecting tile color may be top of mind for homeowners, it's important not to overlook the importance of other materials needed for good results. When it comes to tile, mortar is key to quality installation, lasting results and overall protection of your investment.
Why does mortar matter? Bonding mortars for tile are formulated based on the needs of the tile and the project. Is the tile large and heavy? Will it be set on a wall? Or maybe your job has both challenges. Using the right mortar the right way will make sure your tile stays in place and helps prevent breakage.
Whether you're taking the DIY route and installing the tile yourself or you're working with a contractor, it's critical to select the right mortar for your project and apply it in the correct manner. Things like tile size and project timeline will impact what type of mortar should be used.
The experts at Custom Building Products provide insight into three common scenarios for tile installation and which mortar to consider for each:
1. Basic projects on a budget
For straightforward projects where quality is important and budget a priority, consider VersaBond Professional Thin-Set Mortar, the best-known brand in tile setting. This value-priced product has outstanding adhesion that makes it suitable for plywood subfloors along with porcelain and glass tile installations. It can be used for interior and exterior floors, countertops and walls.
Benefits:
Cost-effective
All-purpose
Good bond strength
2. Large format tile projects
Bigger tiles are getting big attention, with large-format tiles being used consistently in residential and commercial projects. Tiles that are at least 15 inches long are considered large-format and are used in roughly 80% of tile projects today. Due to their size and weight, they require a specially formulated mortar. VersaBond LFT is a non-sag, non-slump mortar designed for large-format porcelain, ceramic and natural stone tile.
Benefits:
Supports large and heavy tile
Suitable for internal and external floors and walls
For use with in-floor heating systems
3. Fast turnaround projects
If you're tiling a space and you need the project done as quickly as possible, VersaBond LFT RS mortar will help fast-track completion. This rapid-setting, non-sag, non-slump, polymer-modified mortar can be used for large-format porcelain, ceramic and natural stone tile. It features a non-slumping formula to eliminate lippage so the surface remains flat.
Benefits:
Cures fast so you can grout in 2 hours
Helps keep projects on time
Non-sag, non-slump formula
Application tips: Don't be a victim of trowel and error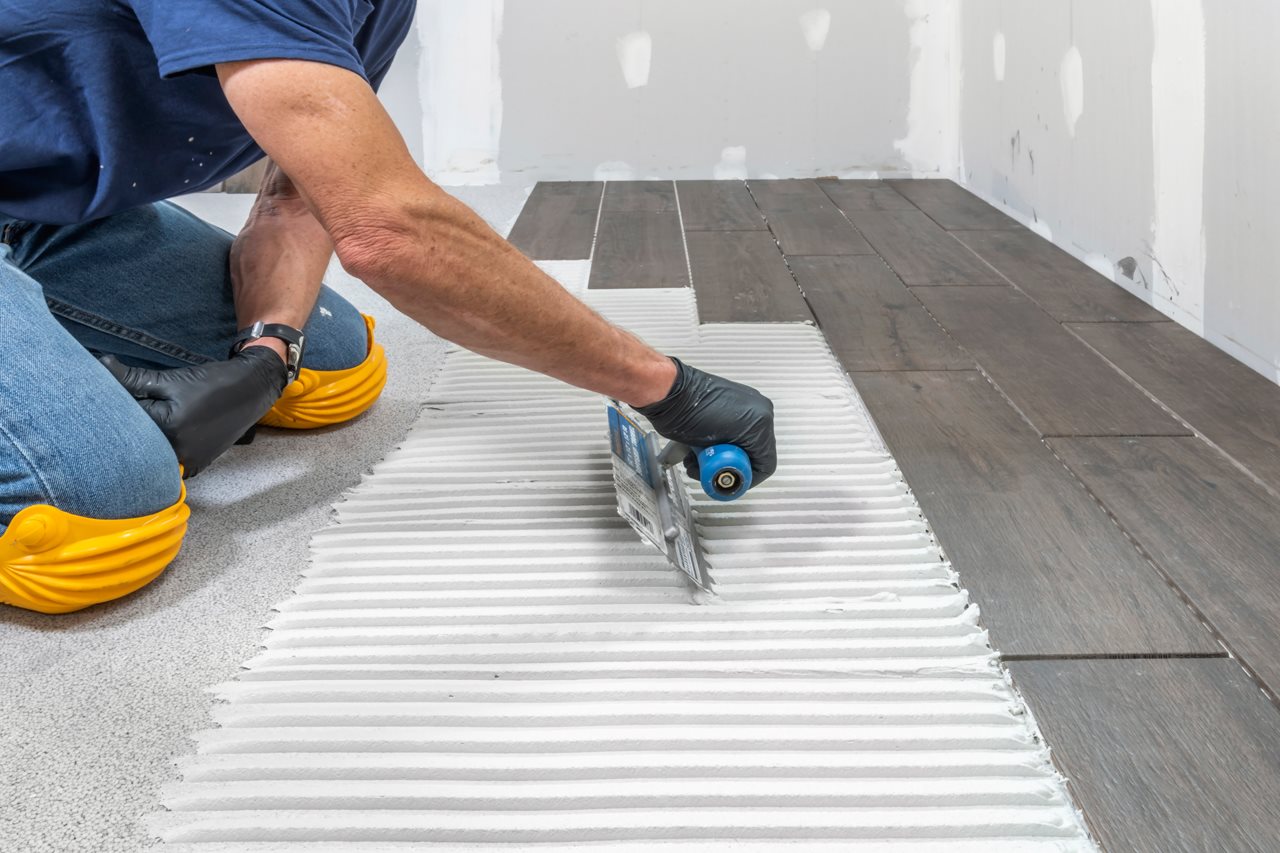 Selecting the correct mortar for your project is essential, but how that mortar is applied and utilized also makes a difference. Here are some tips to help you or your contractor avoid common errors so your tile installation looks great and lasts for many years to come.
Before applying any mortar, the surface must be flat, sound and clean.
Comb trowel ridges in a straight line, all in the same direction for best results and durability.
For rectangular tile, trowel ridges should go along the short edge of the tile, which allows for better air release when you apply the tile.
Research the right trowel size. Larger tiles often require larger trowels.
For large tile or any tile on exterior surfaces, back-buttering the tile is recommended. Do this by using the flat side of the trowel to add a smooth layer of mortar to the back side of the tile.
For more information about tile mortar, including tips and tricks for application, visit CustomBuildingProducts.com.