(BPT) – With kids returning to classes this fall, staying on top of their schedules can be challenging. Whether their itinerary is packed with homework, music lessons or sporting events, kids are busier than ever, and finding time to eat as a family can be easier said than done.
No matter what the new school year entails, feeding them delicious and nutritious meals can make the transition a little smoother. A CDC study shows that eating wholesome meals can lead to better academic performance and overall health.
When deciding how to make your family dinners more nutritious, consider cooking with beans. Beans are loaded with nutrients and have been shown to lower the risk of heart disease, obesity, hypertension, type 2 diabetes and certain cancers. They also contain several vitamins and minerals, including thiamine, potassium, magnesium and iron.
The culinary experts at S&W Beans have a few quick and easy bean-based meals your kids will love. Picky eaters? These recipes come with "bean hacks," so you can put beans into your dishes without your kids even noticing. And the best part? You can make most of these recipes in fewer than 30 minutes.
Here are a few simple but fun kid-friendly, bean-based recipes:
1. Pinto Bean Pepperoni Pizza
The Pinto Bean Pepperoni Pizza allows your kids to enjoy their favorite pizza ingredients like cheese, pizza sauce, crust and pepperoni. Just add a can of drained, rinsed and mashed pinto beans to pack a punch of protein in every bite. Whether a piano lesson or a sports practice is on the agenda, a slice of Pinto Bean Pepperoni Pizza can help boost your child's energy so they can perform their best.
2. Easy BBQ Chicken, Corn and Pasta
The Easy BBQ Chicken, Corn and Pasta recipe has everything your kids love about pasta with a Southwestern twist. Loaded with S&W Kidney Beans, chicken, barbeque sauce, kernel corn, petite diced tomatoes and pepper jack cheese, this dish has a mix of flavors that will give your taste buds a reason to celebrate. Plus, it only takes 25 minutes to make.
3. Taco Bowls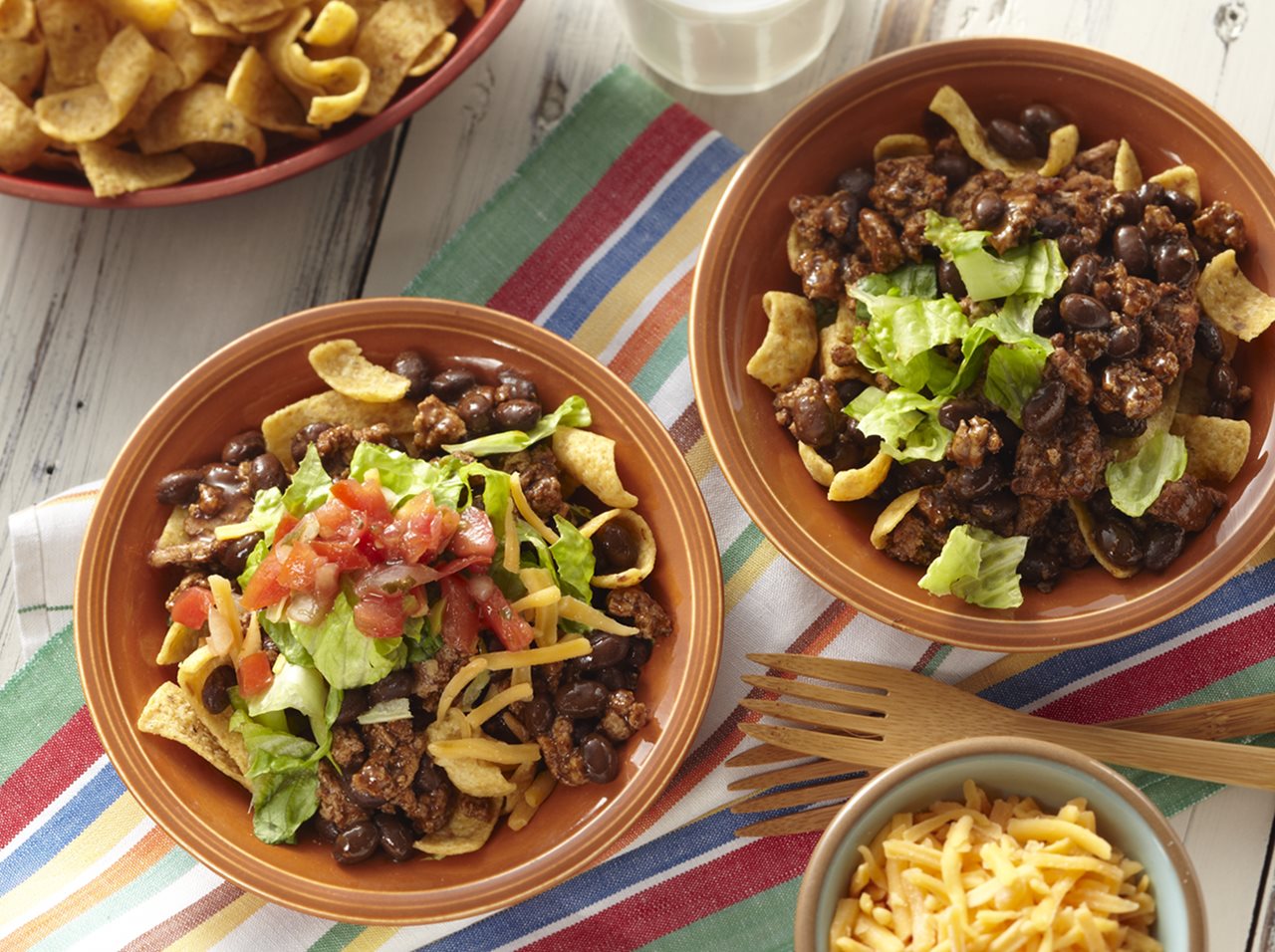 Sometimes it's fun to switch up where you eat with the family. Instead of the dinner table, maybe your kids want to watch a movie in the basement or hang out on the back porch. Taco Bowls are perfect for eating on the go. They include everything your kids love about tacos without the mess. Just add some salsa, shredded lettuce, cheese, corn chips, black beans and ground turkey. You've got yourself a hearty and filling dinner you can eat almost anywhere.
4. European Soldier BBQ Bean Sliders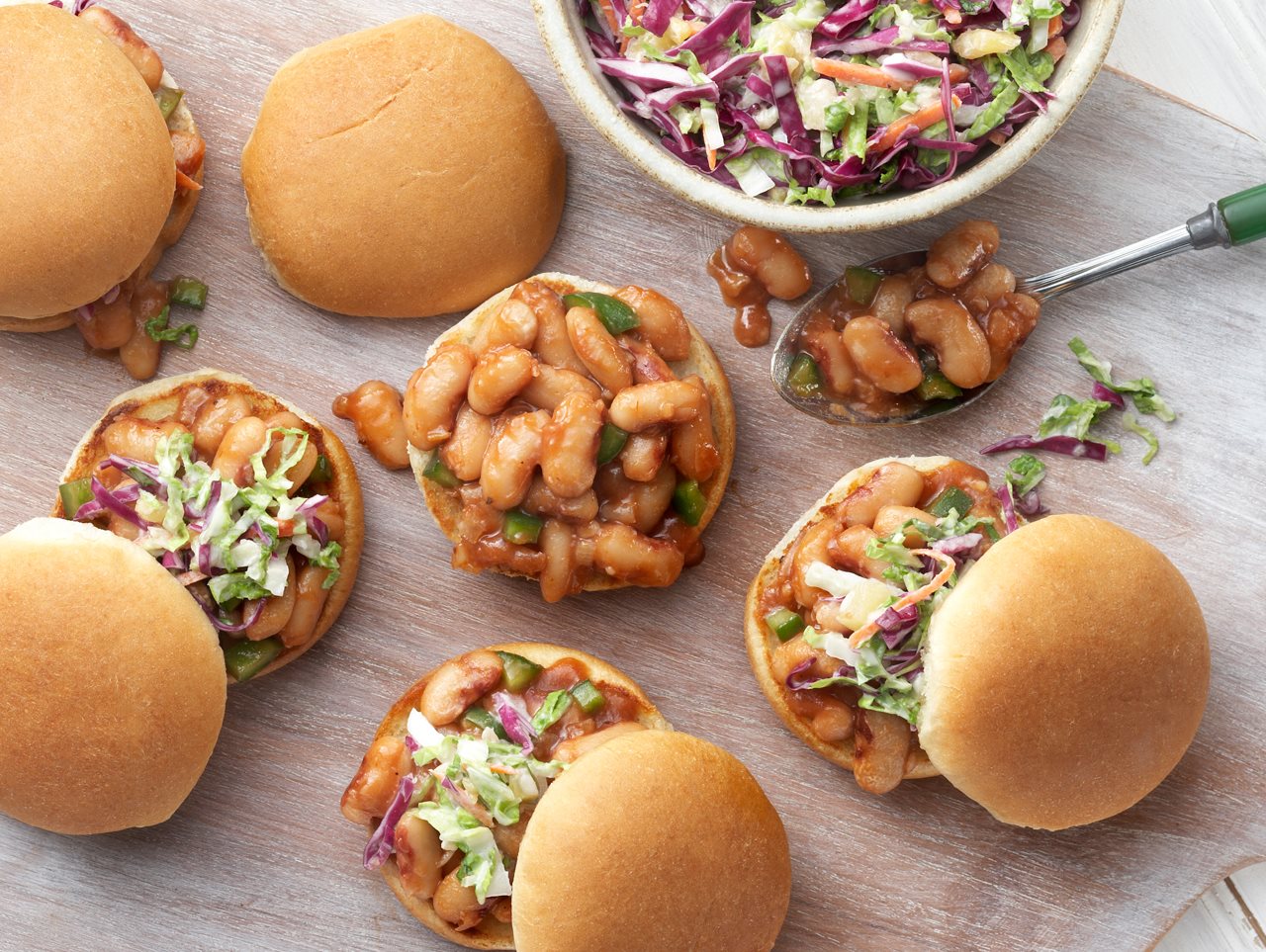 If you're looking for a meat-free meal, the European Soldier BBQ Bean Sliders take a unique, flavorful and vegetarian approach to an all-American classic. Plus, skipping the meat can be good for your wallet, as the cost-per-serving of beans is cheaper than animal-based proteins.
European Soldier Beans are part of the S&W Heirloom Series, rare bean varieties you can't find just anywhere. They provide a hearty texture to your slider without taking away its edge. These beans can also be used in almost any bean-based recipe.
5. Cheesy Macaroni and White Beans
Even the pickiest eaters love mac and cheese. However, finding a recipe with some nutritional value can be somewhat difficult. The Cheesy Macaroni and White Beans recipe gives your kids the best of both worlds. It still has the creamy texture and rich taste that kids love but includes low-calorie, high-fiber white beans, which add a solid source of protein to every bite.
6. Chicken Rice Bowls
If your kids have gluten sensitivities, you know how tough it can be to cook for them. Fortunately, Chicken Rice Bowls are a delicious, protein-packed, gluten-free option that doesn't require a recipe adjustment. On top of the chicken, rice and flavorful S&W Heirloom Series Pinquito Beans, some delicious toppings include avocado, tomatoes and lime.
7. Veggie and Bean Quesadillas
Veggie and Bean Quesadillas pair well with other fruits and vegetables for a wholesome meal across the plate. You can eat the quesadillas for dinner and pack the leftovers in your kids' school lunch. Plus, each batch can feed 12 people.
Make meals that matter with S&W Beans
Life can get hectic, but that doesn't mean you need to sacrifice a nourishing meal and quality family time. Check out www.swbeans.com for more kid-friendly recipes.