(BPT) – Do you love hosting friends and family for game day? With the big game and college basketball championship season quickly approaching, you'll want to make sure your house is ready for your guests. As you tidy up and prepare to throw the ultimate viewing party, don't forget to plan delicious appetizers and dishes for everyone to snack on.
Whether you're keeping it simple with chips and dips, or tackling a larger spread of touchdown treats, Good Foods has provided the following seven recipes to help take your Game Day snacks all the way to the end zone.
Guacamole is a must-have item for your game day gathering. Whether you use it as a dip, spread or side, it's the MVP — most versatile pairing. This recipe for Game Day guacamole is quick and easy to make. All you need is Chunky or Spicy Good Foods Guacamole, bacon bits and sour cream. Using the bacon bits and sour cream, you can create a football-shaped appetizer that blitzes your tastebuds and spruces up your table.
2. Buffalo Chicken Crunchwraps
Jess Larson, the creator behind the blog Plays Well With Butter, has a great recipe for buffalo chicken crunchwraps. Toss shredded chicken with Good Foods Plant Based Buffalo Dip, then fold into a wrap with lettuce, tomatoes and cheese. Cook wraps until golden brown and you'll have a mouthwatering, crunchy snack for the big day in no time.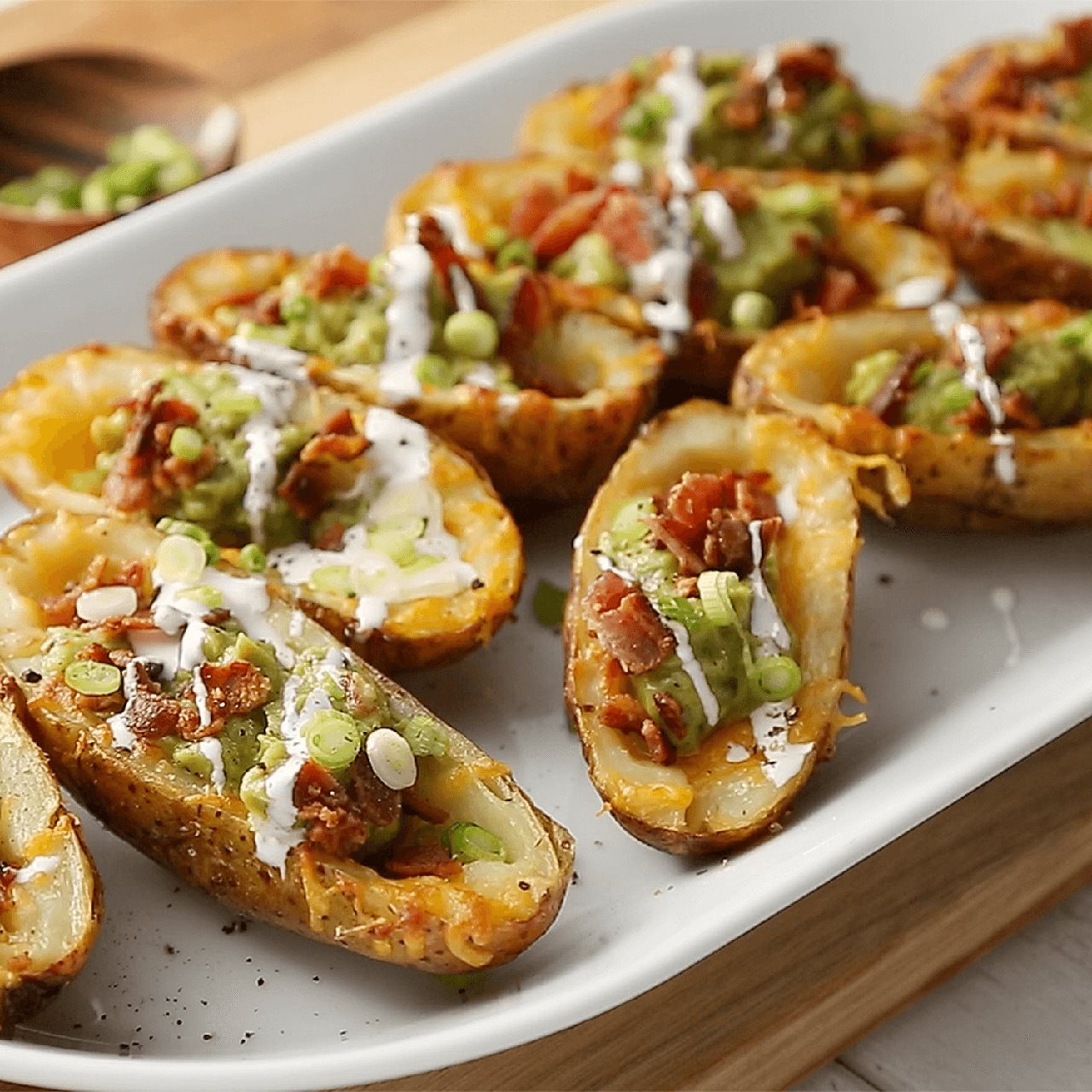 Like the pros, you'll need a filling mix of carbs and protein to fuel you during game day. You can prep this recipe for loaded potato skins in just 10 minutes and take care of other preparations for the big day while the dish bakes. Don't forget to grab Good Foods Chunky Guacamole, bacon, crema and green onion to top the cheesy potato skins.
4. Buffalo Chicken Crescent Ring
Huddle up with your guests on the big day around this tasty buffalo chicken crescent ring. Inside the ring of crescent roll triangles, you'll layer a delicious mix of cheese, chicken, hot sauce, onion and Good Foods Plant Based Buffalo Dip. Finish off this spicy, savory treat by placing a bowl of Good Foods Creamy Ranch Dip in the center of the ring and celery and carrot sticks for dipping.
Make sure your vegan guests have something fun to eat on game day with this vegan jalapeño poppers recipe. You likely already have all the spices you'll need to create this tasty, plant-based dish. For the rest, pop by the store and pick up some jalapeños, fresh chives, vegan cream cheese, vegan cheddar shreds and Good Foods Plant Based Queso Dip. In no time, you'll have a plate of freshly baked stuffed jalapeños that even non-vegans will want to try.
Jess from Plays Well With Butter also created this delicious game day tacos recipe that is sure to be a crowd-pleaser. Simply toss shredded chicken into an easy homemade taco seasoning, stuff corn tortillas with cheese and then bake until the tacos are golden and crisp. Make sure to have a variety of toppings for your game day guests, like Good Foods Chunky Guacamole, Plant Based Queso Dip and Avocado Salsa.
Looking for another delicious vegan Game Day snack? Try these mini vegan taco bites created by Zuliya Khawaja of Naturally Zuzu. Stuffed with jalapeño, corn, peppers, tomatoes, beans and plenty of tasty seasonings, these crisp creations will elevate your game day snack table. Pair these bite-sized beauties with Good Foods Plant Based Queso Dip, Chunky or Spicy Guacamole, and you'll have everyone asking for seconds.
While the recipe calls for vegan ingredients, you can customize the recipe to include animal protein if desired.
Make a few or all seven of these seven recipes and you'll be sure to have the home field advantage with your guests on the big day! You can find Good Foods products nationwide at Target, Costco and major regional retailers, including Kroger and Publix. Find a store near you using their store locator, or visit the online store and buy party-ready bundles to save time on the big day.