(BPT) – If you have a love for the art of cheese boards, you're certainly not alone. But if you sometimes find yourself stuck in a rut making the same old spread, well you're not alone there either. This Saturday, July 25, is National Wine and Cheese Day, and to celebrate, Pretzel Crisps® is helping snack lovers take their next wine and cheese masterpiece up a notch.
Here are some top tips to turn your traditional cheese board into a work of art you'll want to make again and again.
Mix Sweet and Salty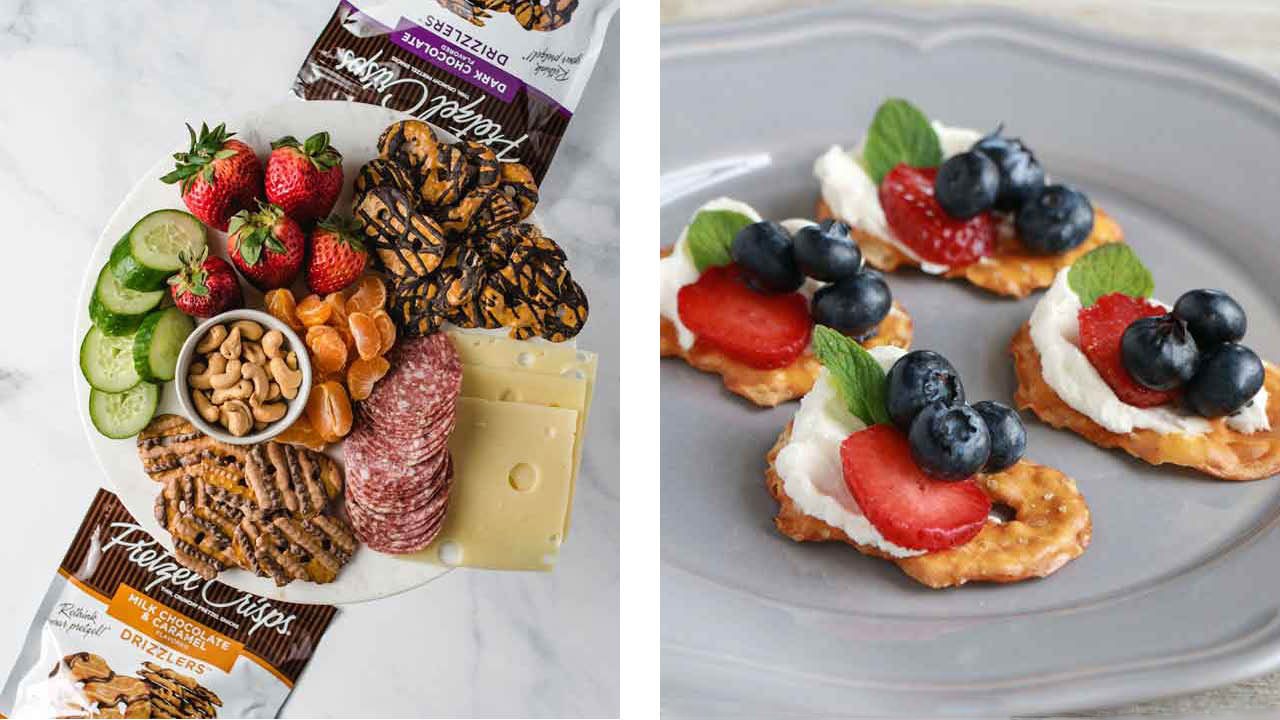 Why choose one or the other? Satisfy both your sweet and salty side! When it comes to creating a spread, you'll start with your foundations — a favorite cheese and a delicious base, like
Original Pretzel Crisps
. Then for your toppings, it's common to gravitate toward classic salty snacks like olives or dried meats. To really spruce up your board, mix it up with delectably sweet flavors, like fresh berries for a refreshing twist, or even morsels of chocolate to delight those taste buds. Fun hack: Check out
Pretzel Crisps Drizzlers
for a little of both!
Raid Your Pantry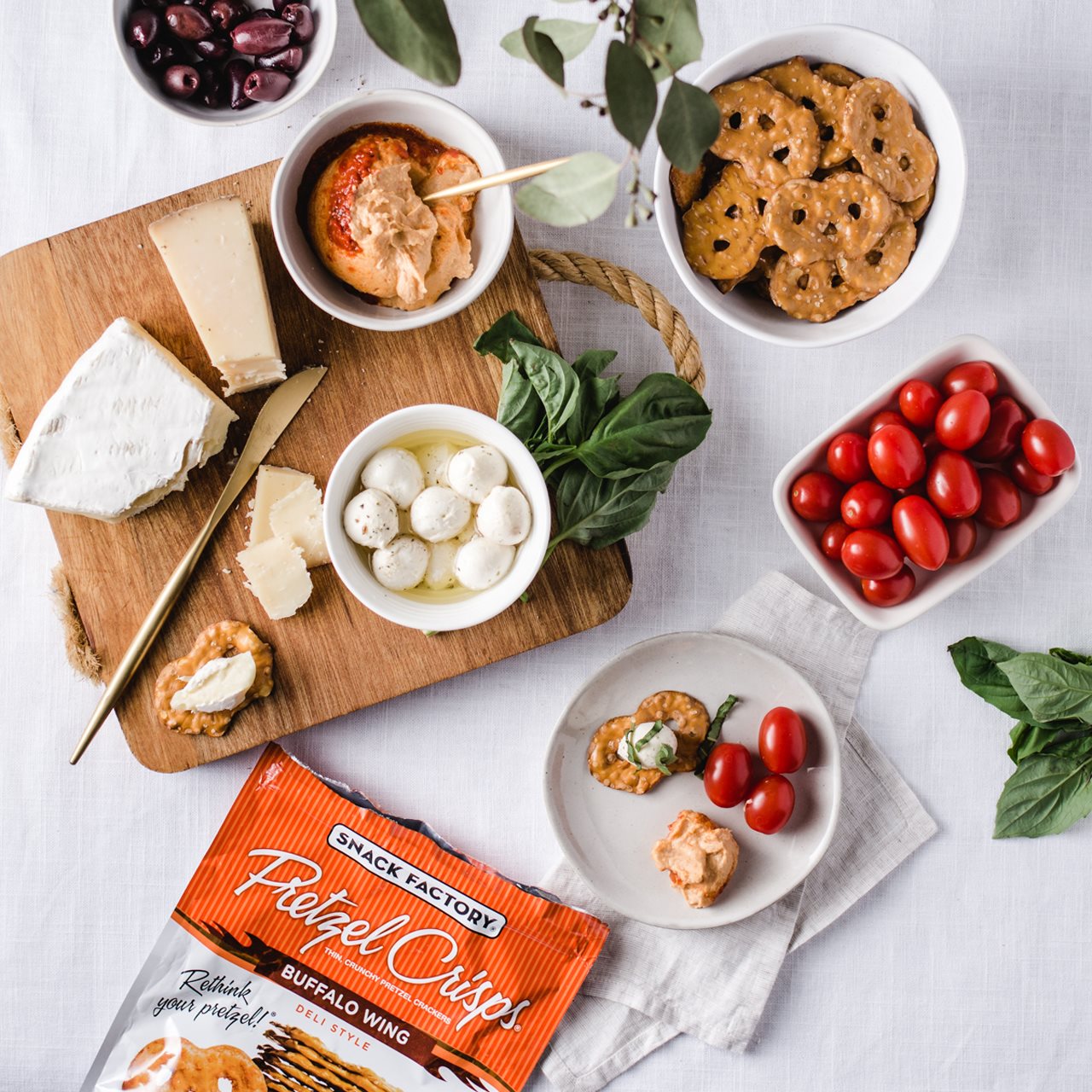 Get creative with what you already have on hand — after all, a cheese board doesn't have to be filled with extravagant or exotic treats. Head to your pantry and choose a snack time favorite, like Buffalo Wing Pretzel Crisps. Next, venture to your refrigerator to see what fresh ingredients you have — maybe a hunk of white cheddar or baby mozzarella. But not to worry if you're in between shopping trips — Only have string cheese on hand? Have a bag of trail mix you brought on that hike last weekend? Not a problem — this is a great time to get creative!
Go Back to the "Base-ics"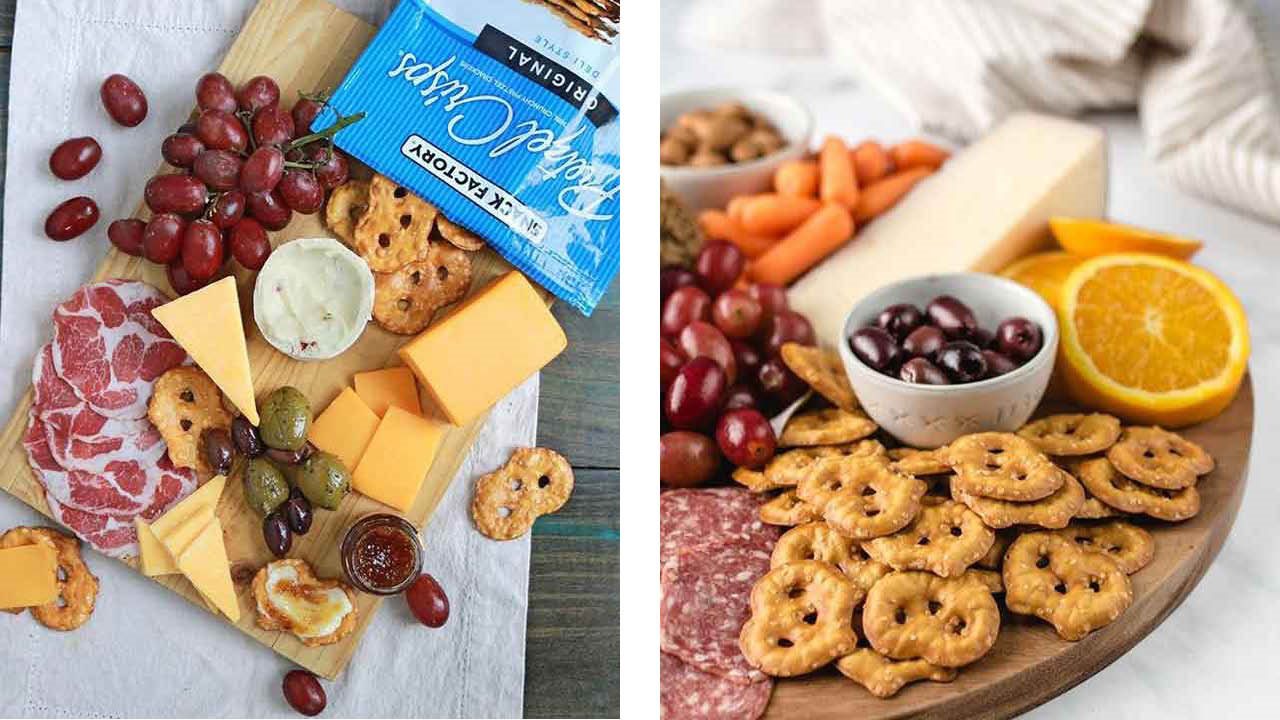 Fruit, cheese and meat play a crucial role in the ultimate cheese board, but you can't enjoy these delicious snacks without a satisfying, yet sturdy base. To get a wide variety of sweet and savory options, check out the
Pretzel Crisps line-up
for delectable flavors such as
Garlic Parmesan
and
Sea Salt & Cracked Pepper
. So, go ahead and pile on the cheese, meat, veggies and dips — the sky's the limit!
Complement the Wine Flavor Profile
A great place to start when constructing a cheese board is with the wine selection. Red wines such as cabernet sauvignon and pinot noir go great with hard cheeses and cured meats. Pair the bold flavors of cabernet sauvignon with that of an aged cheddar for a burst of flavor. Craving a crisp white wine? Grab a bottle of sauvignon blanc and spread some creamy goat cheese on
Original
or
Everything
Pretzel Crisps
for a flavor palate that's both light and nutty.
Make it Visually Engaging
Finally, don't limit yourself to the same old cheese board. After all, the presentation is where you can get really creative and show your artistic side! Play with different shapes and colors to make your board visually appetizing. Here's a pro-tip: Use cookie cutters to cut your meats and cheeses into unique shapes like hearts and stars or try adding serving bowls in a variety of colors and sizes for your nuts or fruit. Let your imagination run wild!
To learn about Pretzel Crisps or to find more recipes and inspiration, visit www.pretzelcrisps.com.